Two guys decide Flushing is site of next NY world's fair
Jim Brown
FLUSHING, NY - Last fall, a few months after attending a meeting of a world's fair startup group, Gary Miller and Jim Brown could not wait patiently any longer for the group's next meeting. They took matters into their own hands and went to Flushing Meadows Corona Park, site of two previous world's fairs, to break ground and begin construction of the 2014-15 New York World's fair that the group proposed to organize. Jonatnan Bydlak, a Princeton University student, had the idea that it was time for New York to host another great exposition. Bydlak made calls to PTU members and others to form a committee which included Jim and Gary in order to form a committee.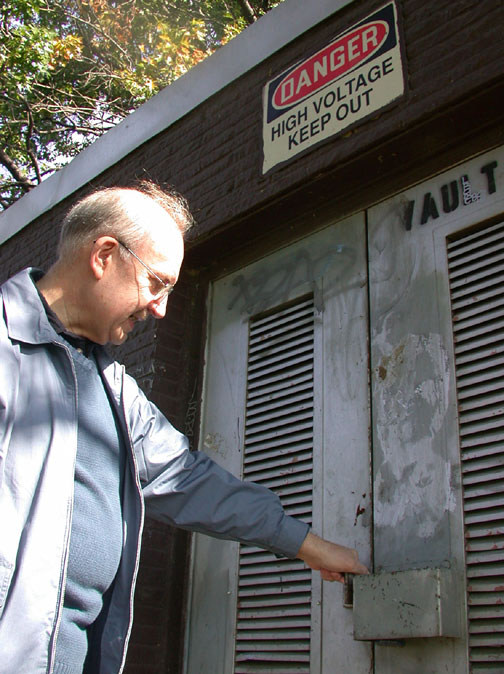 Gary looks to see how he can pick the lock on this electrical vault left form the last world's fair. The guys need to determin the condition of existing electrical infrastructure and what improvements will be needed for 2014. This vault once distributed power to several of the international pavilions.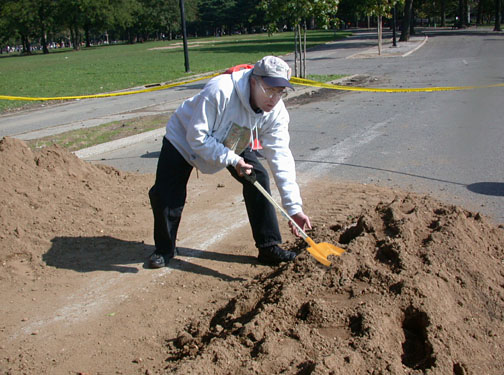 After only one meeting of the fair organizing committee with virtually no plan or official support in place, Jim and Garry conduct a quick and impromptu ground breaking ceremony to officially begin construction on the 2014-2015 New York World's Fair also known as "World 2014."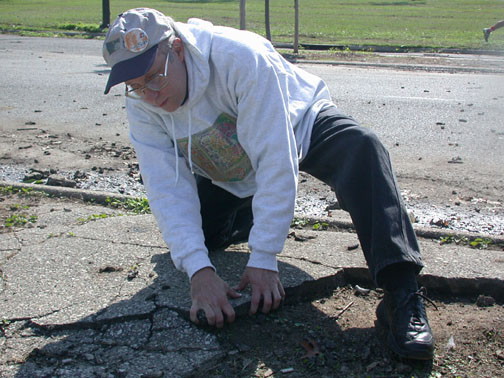 Jim started to strip away asphalt that was here since the '64-'65 fair to make way for a new post space-age surfacing.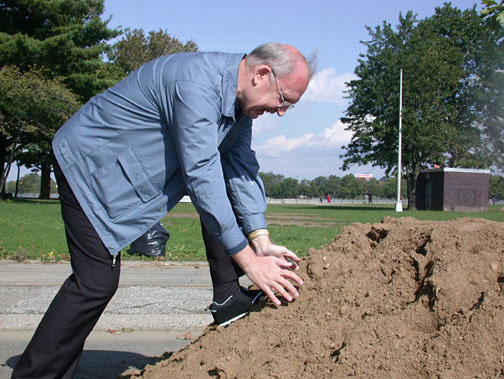 Gary, a motion picture film distributor by day, did not realize that he need to show up for this job in work boots, coveralls, and a hard hat.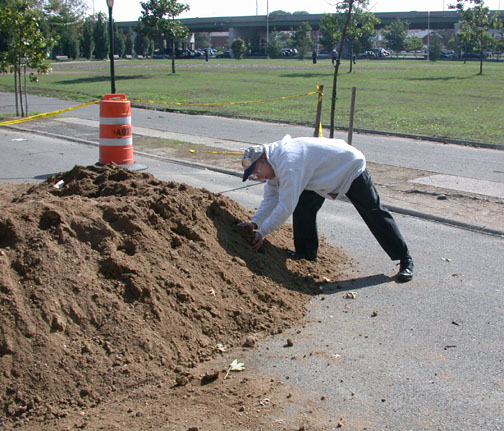 Flushing Meadows is only one of many sites under consideration by the committee, but despite obvious problems using this site that recently undergone a several million dollar park renovation, the guys are determined that their life long dream of the fair of their youth returning here become reality. Jim knew as a youngster in '65 that someday as an adult he would be involved in the creation of the next fair.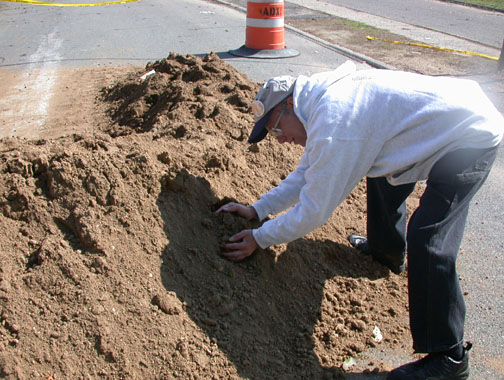 In haste to get things started, Jim uses his bare hands to move dirt to where it will be needed on the site. Some will say he is jumping the gun again.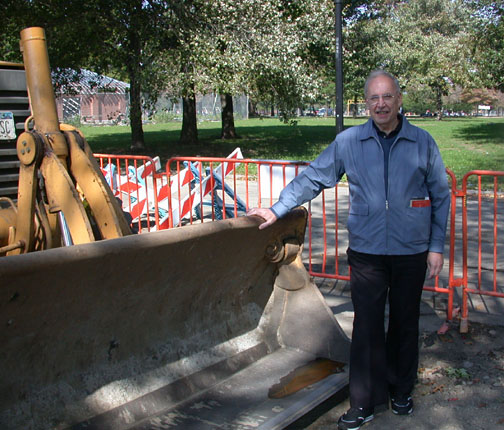 Gary has just set up temporary railings to keep children and soccer balls from interfearing with construction of the park's future as host to a third world's fair.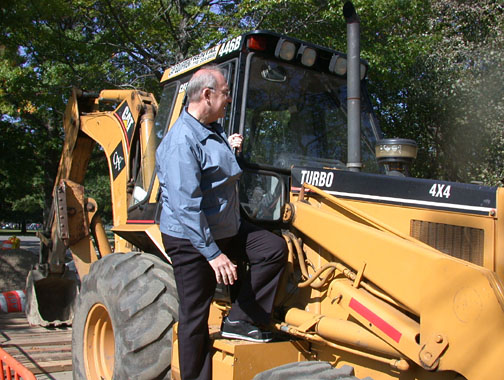 Gary is inspecting the front loader and back how that the two men rented from a local equipment supplier.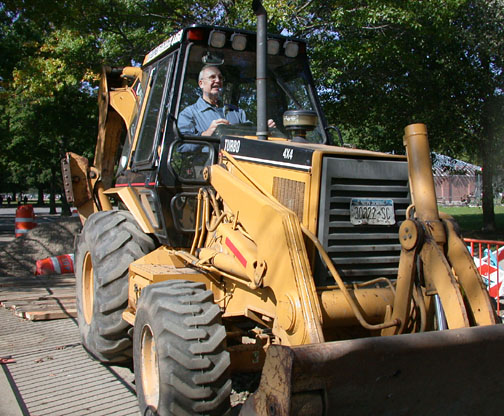 Gary begins excavation for new drainage and utility systems that will support the many pavilions that Jonathan and his committee will sign on in the months and years ahead.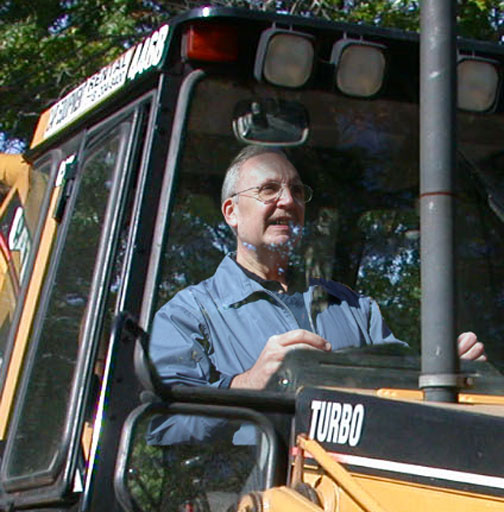 Not a care in the world about FMCP police arresting him for trespassing and digging on public property, Gary takes the wheel to begin the "Dawn of A New Day" for Flushing Meadows.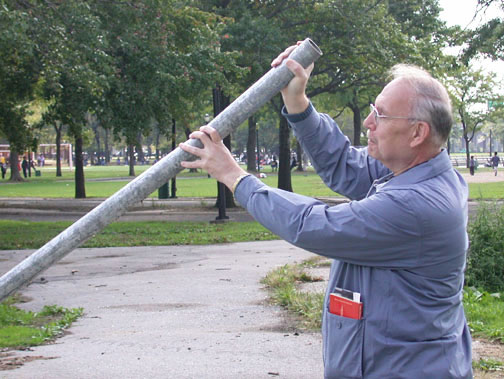 Hundreds of miles of new electrical conduit will be needed to bring electricity, fiber optic communications, video, and broadband data to more than 200 pavilions. A '65 Guidebook in his pocket will not be of much help in locating existing subterranean infrastructure.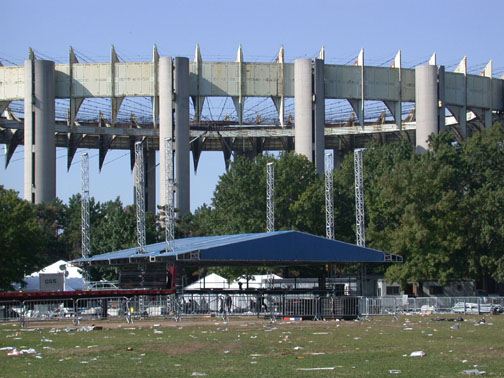 Along side the remains of the New York State Pavilion on the site of Paris and Swedish pavilions, Jim and Gary started construction of a temporary administration building for the new world's fair corporation. To obtain the materials they made a secret deal with an unnamed Manhattan theatrical rental company and obtained a few trailer truck loads of outdoor concert staging equipment.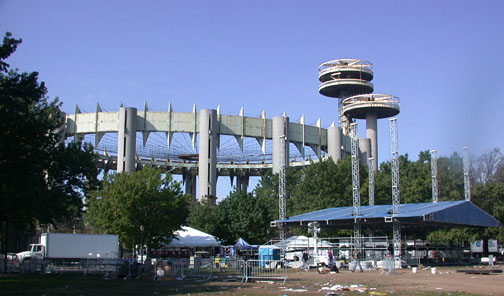 The new temporary administration building will allow Jonathan's "World's Fair Corporation" to finally have a permanent place to hold meetings and plan their fair. The building will house a model of the fairgrounds built by Bob Bianco who, as a youth, built a model in his basement of the '64 fair. The facility will also provide office space for Greg Dawson to head up public relations, a presidents office and state-of-the-art conference room with audio/visual presentation systems designed by Richard Post for Jonathan, David Oats, and the rest of the growing administrative staff and support staff. The rooms along the outer ring of the Tent of Tomorrow will serve as a temporary press building. The NYS towers will be used to show influential people the fairgrounds. The Theaterama will be used for large presentations.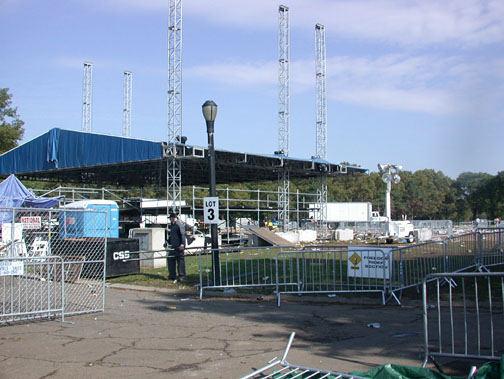 Six towers are used to hoist the roof to its final resting point before the outer walls are installed. Cary is pictured with an aluminum truss section.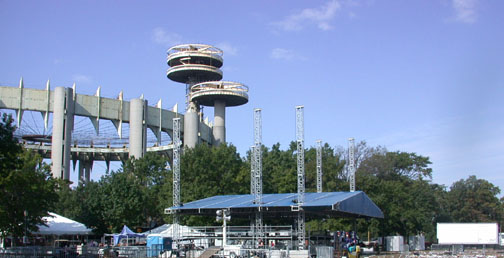 Cary and Jim had the park police and parks department believing that they were just holding a one weekend Rock 'n' Roll show featuring the Beatles and a gust appearance of the original cast from Dupont's Wonderful World of Chemistry. By the time they get wind of the truth (and that will take the parks department a while -- case in point: look at what stands in ruins behind the trees above), a world fair will already be rising once again from the ashes made famous in the "Great Gaspy."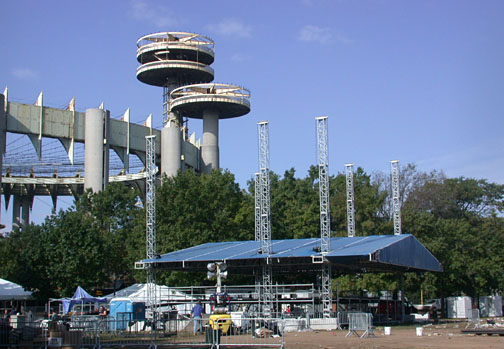 We anxiously await Jonathan's response to the guys starting things at the site way ahead of schedule.