Optisonics Productions provides support services for graphic arts, web design, audio, and video production.
As a member of your production team or as a producer of an entire project.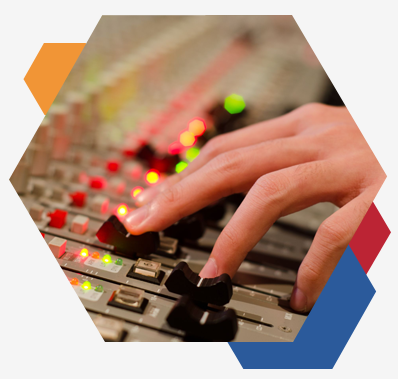 Bring up the volume with technical expertise and fresh creative ideas...
I'm Jim Brown and through my freelance company Optisonics Productions and a lifetime of creative and practical experience in the audio and visual arts, I can be a valuable asset to your next project.
Perhaps you have ideas for what you want your project to achieve and the form it is to take. You may be starting with only an idea or you may even have a completed script for an audio/visual project or detailed sketches for a printed piece, a website, an exhibit, or a display. Now you are ready for production.
I have experience in many specific tasks in the production process. As I have done for many small and even large corporate clients, I can provide technical expertise and fresh creative ideas. I am adaptable to many working arrangements and can work with you on an agreeable price. Small jobs are always welcome.
Contact Me
More services at a glance:
The table top photography area of my studio is perfect for photographing small objects for selling through on-line markets such as eBay, Amazon, or your on-line store. I also provide prodct photography for catalogs and advertisements. Minor or even more complex color corrections or editorial alterations can be made and them output to a variety of formats.

The portable sound system is capable of playing music or any sound environment. I can provide live sound reinforcement or create a sound environment for most any event, stage show, presentation, social event, or other public attraction.

Audio Media Transfers

Transfers to digital media from various open-reel audio tape widths, speeds, and track configurations. Restoration from old analog tapes. DAT tapes transfered to digital in a variety of formats and saved to CD, DVD, or thumb drive at affordable prices.

I can work with an existing studio or video producer as a camera operator using either your equipment or my own.

Leave the production work to me while you concentrate on the writing and editorial. I can handle the design, development of templates, and on-going production of each edition. I have many years of experience in the production of newsletters and newspapers.

Web Design and Site Updates/Maintenance

This site is an example or my work in developing websites. It was adapted from a stock template and major revisions were made to create a custom site.
Creating graphics, audio, and visual media since 1972
Since 1972 — actually since childhood — I have been doing projects having to do with: TV/video; audio recording, editing, and mixing; building exhibits; and creating graphic media of one kind or another. I even had considerable experience in stage lighting and set design. All of this has greatly helped me develope skills and technical expertiese in many forms of communication, entertainment, and marketing media.
See my portfolio - COMMING SOON