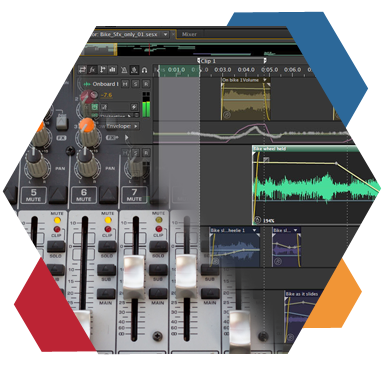 Audio Recording, Editing, and Full Productions
Located in Northern New Jersey, the audio post-production facility provides a simple and low cost solution for the production of many kinds of commercial sound tracks. This is not a music recording studio, so no bands. Rather this post-production room is well equipped to handle full production for the internet, multi-media, audio books, museums exhibits and other themed attractions, training materials, sound cue tapes for theatrical and other live productions, and radio commercials.
I had years of experience editing hours of narrations and interviews. (Most of this experience was with razor blade splicing of audio tape on an old Ampex 350.) Over the years I created many complicated multi layered soundscapes for audio environments in such application as a haunted house attraction, comedy records with lots of music and layered sound effects, and sound tracks for exhibits and multi-media presentations. I also produced many radio commercials, audio books, and sound tracks for video productions. Click below for samples.
Audio Production Samples
Contact Jim Brown
Sample Clips
General Demo
Excerpts from several audio tracks produced for commercials, multi-media, and exhibits. The demo starts with a sound effect montage of that opened a multi-image museum exhibit presentation. (Sound starts off soft.)
"Return of the Messenger"
Excerpts from this multi-image presentation tracing the history of Haley's Comet.
More to come...