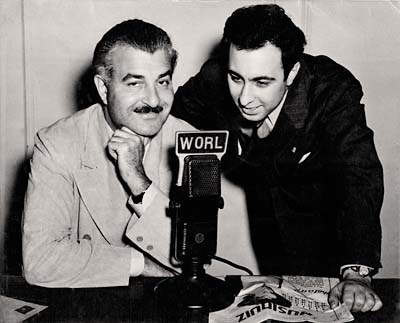 Steve Manion, right, during a broadcast of Music for Everyone

"Music For Everyone" a 1950s Radio Music Edutaiment Series
In the years following World War II it was a common practice for house wives to stay home and care for the kids and the house while the man of the house went out to work. And what kept them entertained while doing their chores was radio and eventually television. Daytime soap operas and quiz shows were much of the format and so was music programs. One such daily half hour program was "Music for Everyone" with Steve Manion out of a Chicago, IL in the mid 1950s. Steve took what you may know already and went on from there so you could enjoy and understand so called classical music. He mixed musical fact and fun together in what he called "edutainment" — educational entertainment. Below are all of the remaining episodes preserved and enhanced in digital form. Mush of the scratches from the records he featured and and other imperfections were kept intact so you can experience these "air-check" recordings they way audiences heard them at the time.
Because Steve was not a professional musician himself, he took the layman's point of view naturally, and conveyed these down-to-earth observations in a friendly, informal manner…even to the extent of "horsing around" with some of the "sacred cows" of classical music — all within the bounds of good taste.
In the 1970s I had the privilege of knowing Steve Manion (Stephen J. Manookian) and working with him on attempts to bring his beloved long term music project to life once again and any suitable medium including television and live presentations. Now, some 30 years later after his death, through the medium of the internet I can bring you his wealth of musical knowledge and enjoyment in his memory. –Jim Brown
Music for Everyone Programs
Be sure to pause each player before playing another selection.
Just How Serious is Serious Music
I Wouldn't Give That Stuff The Right Time
As Simple As ABC
Our Piano and How It Got That Way
Opera - Cavelleria Rusticanna
Opera - Verdi
The Scales in Music
Music is a Universal Language
Kid Stuff
There's Magic in Music
Classical Music Doesn't Ring a Bell With Me
Sacred Music and Symphonic Music
Classical Music Terms Made Easy
Shall We Dance
The Waltz
The Name's the Same
Classical Music: A Dry Subject - Rivers
Summer
Classical Music: That Stuff's for the Birds
Columbus
Thanksgiving
Winter
How Old is Old
1955 Highlights
Presented by Buck Lee
Popular Music
Beginning portion missing from original masters. Narrated by Buck Lee.
Demo for radio syndication.
Lets Open a Musical Door
Sound track from a black and white television pilot made in the late 1960s at PDQ Studios in Tenafly, NJ.